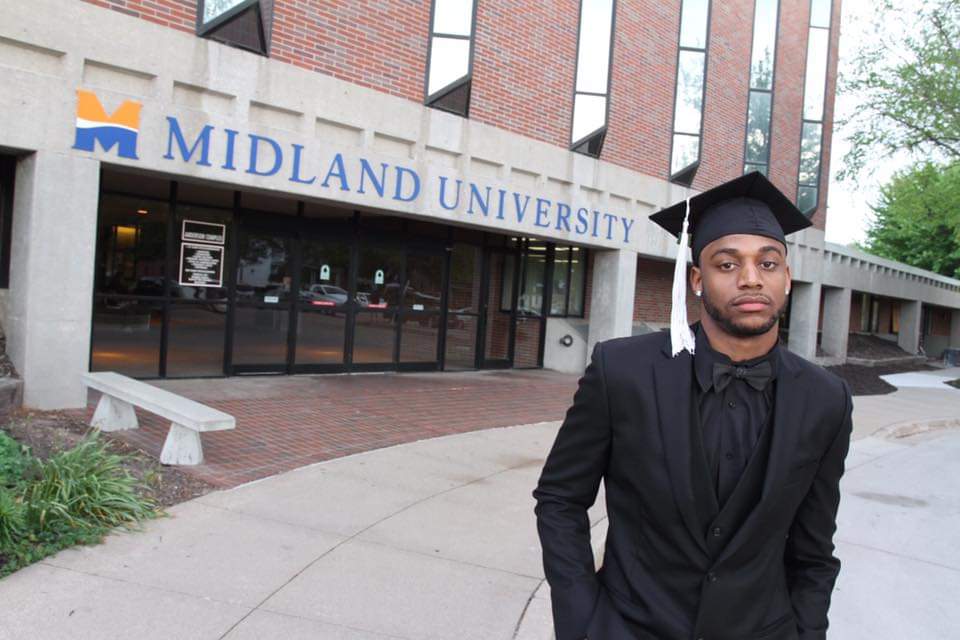 Dunn PAL Member Anthony Rasheed "Sheed" Fairley while attending Triton High School in Erwin, NC missed 81 days while in school, got kicked out of Triton and was very shy at school surrounded by the wrong environment. Rasheed's parents who lived three blocks from Dunn PAL, didn't have much but, did their best to supply his needs growing up.
Rasheed was 13 years old, tall, skinny and a quiet young boy when he first started coming to Dunn PAL. One of the things that lead him to coming to Dunn PAL was other kids he knew were going and playing sports. "Going to PAL helped me having consistent food and opportunities to play basketball which helped me take my mind off of things said Rasheed." "You see watching both my parents struggle and go through being homeless on two different occasions led me to the PAL." Rasheed said he would go and shoot around in the gym by himself and cry just to get his mind off of things. "I owe alot to the people that interacted with me back then."
Rasheed's basketball friends met with then Lt. Rodney Rowland the Director of Dunn PAL who was also a police officer with Dunn Police Department and Varsity Boys Basketball Coach at PAL about sending Rasheed to Boys Town in Nebraska. I talked with him one day then Lt. Rodney Rowland Director of PAL said. Rasheed said he might be interested in going to Boys Town to play Basketball. Rasheed and Lt. Rowland then met with Rasheed's mother. Rasheed and his mother agreed for him to go to Boys Town to finish school.
Anthony Rasheed Fairley was 17 years old when he arrived at Boys Town which is a Historic Faith Based School right outside of Omaha, Nebraska. Rasheed really didn't want to be at Boys Town at First, but he knew it was the best move for him. Things got better for Rasheed when he started playing basketball for the Boys Town Cowboys and started playing organized school basketball for the first time which happened to be his senior year of high school.
Rasheed worked extremely hard and landed a scholarship at a Junior College, however the college life was cut short due to shortage of dorm rooms that semester so he had to go back home to Dunn and work for a little while until next semester. Rasheed after returning home to Dunn started working at Dunn PAL until the spring of 2012 when he went back to spring semester of college. He played basketball at the Junior College and worked on his grades and basketball ability and ended up getting a scholarship to attend Midland University to finish with a 4 year degree and play for a division 2 college. Rasheed graduated from Midland University in 2017 with a degree in Sociology.
The next three years Rasheed found himself working at group homes, hotels, and various other jobs. Then Rasheed saw an opening at Boys Town his old high school and decided to apply. He got accepted and started working Full Time back at Boys Town as an Assistant Family Teacher. Rasheed says the reason for going back is simple, "I wanted to come back to Boys Town because of the culture and how much the place saved my life."
Now Captain Rodney Rowland Director of Dunn PAL said, "I have seen Rasheed grow from a young boy with little direction to a well focused, successful young man with purpose and passion."
Rasheed says, He wants to give back and let other young people know that no matter what is in front of them right now there is always hope and he wants them to know he is there if they need him.
Any youth with sports background and in 9th thru 12th grade wishing to attend Boys Town School in Boys Town Nebraska can speak with Captain Rodney Rowland of the Dunn Police Department who is the director at Dunn PAL. Capt Rowland can be reached at telephone number 910-892-1873 or email him at director@dunnpal.org.
Article contributed by: Anthony Rasheed Fairley and Rodney Rowland